Noun Book/Ba-uuh-ck is an object that lets you read about stuff. There are reference books, fantasy books, nonfiction books, etc.
A book contains text that is written by the author of the book, sometimes it even has pictures in it too! Books are like the human body, they consist of different parts and peices, two of which that are in the human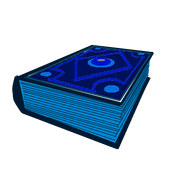 body, an appendix, and a backbone.
Books are classified in different sections, such as History, Adventure, Fantasy, Etc... The two most read types of books in the world are Fiction and Non-Fiction. Comics and Graphic Novels are also a popular type of book to be read.
DisambiguationsEdit
Book - To reserve or pre acquire something. (eg. Buying tickets to a movie before it comes out)
History and TriviaEdit
The first books were written on papyrus, a type of paper before tree made paper.
Books were used to entertain people before the introduction of more entertaining things.
Did you know that tree paper was first made by the chinese?
A book comes with different parts, a glossary, a table of contents, and most oftenly, a prologue.
Books are bought in book stores
Ad blocker interference detected!
Wikia is a free-to-use site that makes money from advertising. We have a modified experience for viewers using ad blockers

Wikia is not accessible if you've made further modifications. Remove the custom ad blocker rule(s) and the page will load as expected.